| | | |
| --- | --- | --- |
| | | |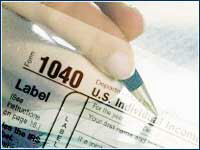 TAX NEWS
Taxmasters, Inc. Charged with Misleading Customers and Unlawful Conduct
Maybe you've seen their commercials ("We solve your tax problems"). The Texas Attorney General has charged the Houston based company with misleading customers and unlawful conduct, citing nearly 1,000 customer complaints about Taxmasters' business practices:


According to the state's enforcement action, the defendants unlawfully misled customers about their service contract terms, failed to disclose its no-refunds policy, and falsely claimed that the firm's employees would immediately begin work on a case – despite the fact that TaxMasters did not actually start to work on a case until its customers paid in full for services, even if that delayed response meant taxpayers missed significant IRS deadlines.

"In the midst of a national economic downturn, TaxMasters used a nationwide marketing campaign to offer services for distressed taxpayers who needed help dealing with the IRS," Attorney General Abbott said. "A state investigation and nearly 1,000 customer complaints indicate that the defendants routinely misled customers about the nature of their tax resolution service agreements – and worse, attempted to enforce those improper agreements through unlawful debt collection tactics. The state's enforcement action seeks to prohibit the defendants from continuing to violate the law and seeks restitution for the financially struggling taxpayers who were harmed by the defendants' unlawful conduct."


The attorney general's allegations paint a picture of people taking unconscionable advantage of taxpayers in distress. The AG says that the company refused to reveal the terms of their contract until after their customers had provided a credit card or bank account number. Their service contract provided that the customers could not get a refund of any amounts paid, even if they decided to terminate the contract before Taxmasters provided any services.


Please see the
Terms and Conditions of Using this web site
Copyright 2010 C. S. Cooper Law Firm, Ltd. All rights reserved.